Illustration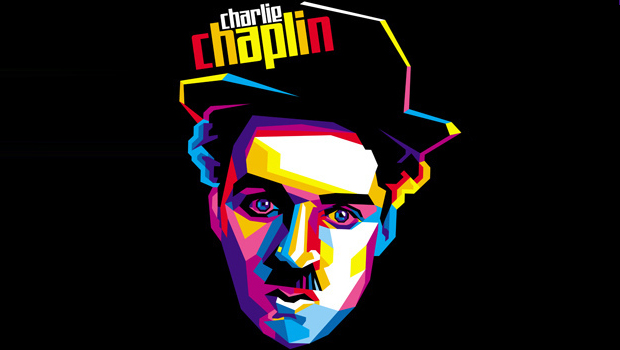 Published on January 15th, 2013 | by WERTEE EDITORIAL
1
Express Joy in Silence with Charlie Chaplin T-shirt Designs
Who will not recognize this man with a hat, a moustache, a cane in a suit jacket, baggy pants and floppy shoes? Well, this of course is Sir Charles Spencer "Charlie" Chaplin who is one of the most well-known comedy stars in cinematic history. Many people up to this date are looking up at him due to his great contribution in the comedy industry and how he touched lives due to what he is doing. Some people even consider the beginning of comedy from Chaplin's reigning during the silent film era. Isn't that amazing? A silent film with mere actions and expressions can make the audience laugh! These days, we have modern comedies with all the punch lines and music. Chaplin sure did a great job during his time.
Chaplin was indeed a star that he is still known up to the present generation. He also became a famous subject for art works including t-shirt designs. People wearing a Chaplin t-shirt are proud for having someone like him who seemingly shouted joy in his silence. So, let us take a look at how designers expressed their love for Chaplin through the t-shirt designs we are about to see. Scroll down and feast your eyes with Charlie Chaplin t-shirt prints.
A Graça das Cores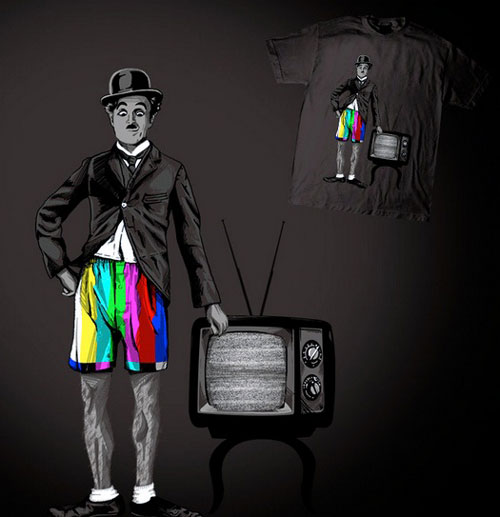 Charlie Chaplin in colorful shorts just like how he added color to the once black and white lives of the people.
Designer: Fdegrossi
Charlie Chaplin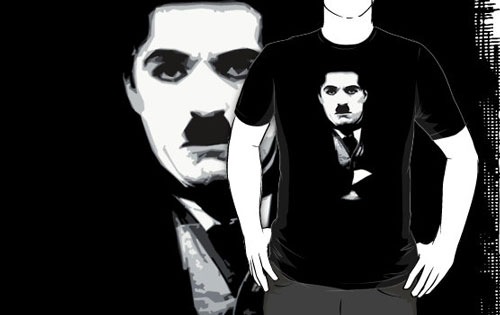 A serious looking Chaplin that reminds us of how he silently painted smiles on the faces of his audience.
Designer: Robin Brown
Charlie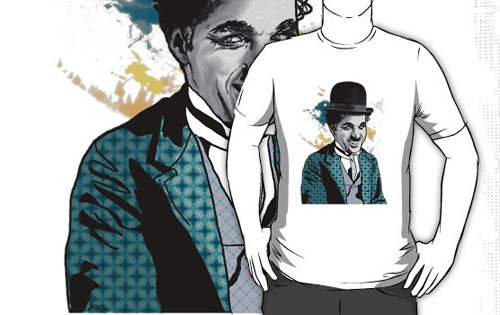 Now this is the Charlie grin that is not just contagious but is certainly full of blasting colors like how this shirt is done.
Designer: Baser
Charlie in 3D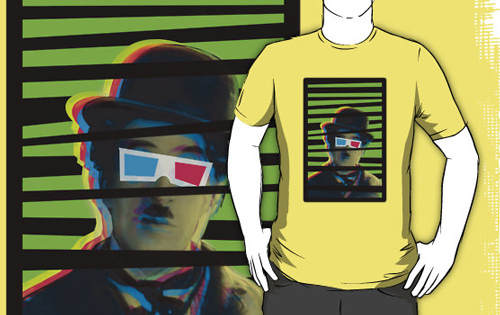 Ever imagined of a Charlie film in 3d?
Designer: Theybidukz
Charlie Chaplin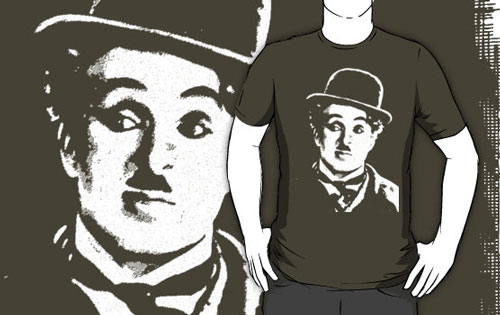 Comic in style which is just fitting to the look of Chaplin.
Designer: Otis Porritt
Charlie Chaplin Camiseteria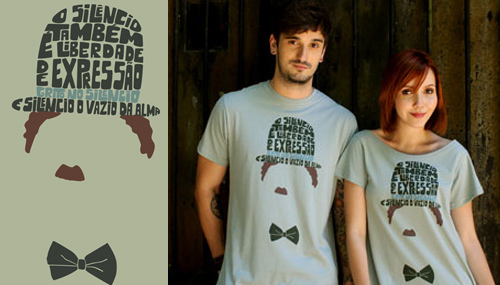 Chaplin's hat for this design made use of typography art but it is still remained recognizable.
Designer: Camiseteria
Ziv Charlie Chaplin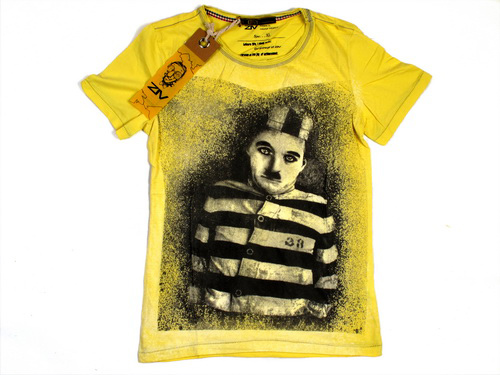 Charlie in jail. But we think he can still give joy even behind bars.
Designer: Prikolnye
Sir Charles Spencer Chaplin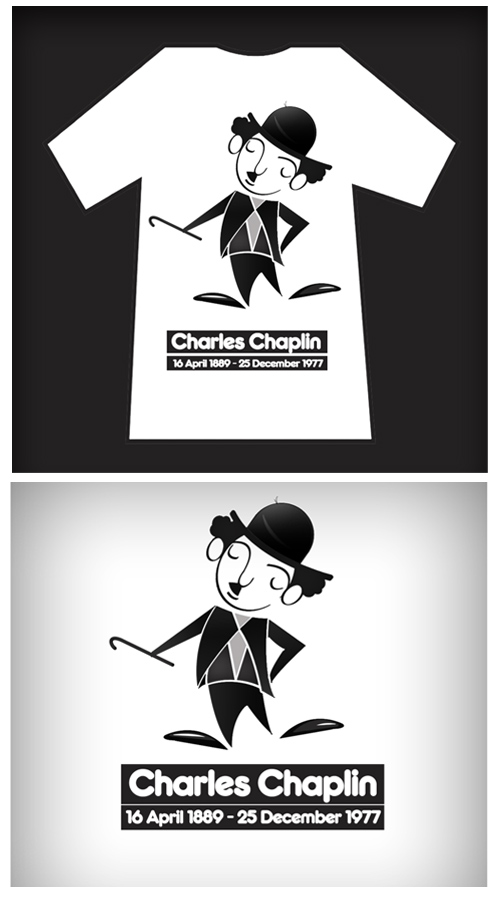 A cartoon version of Charlie. This one sure is a cute design.
Designer: Jammyy
Retro Vintage Classic Print Charlie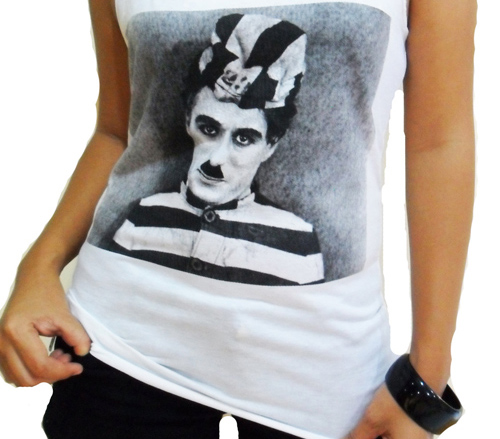 Retro look with Charlie in prison uniform. This looked even more retro with the black and white shades.
Designer: Grow2012
Chaplin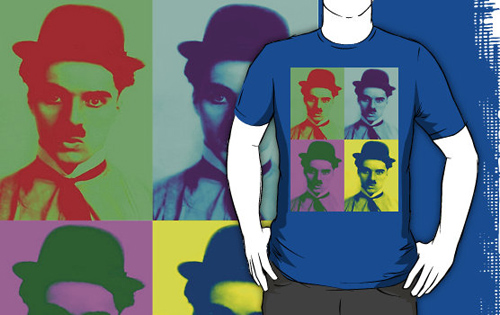 While the previous one was in black and white, this one shows Chaplin in different colors.
Designer: Emily Draper
Charlie Chaplin T-shirt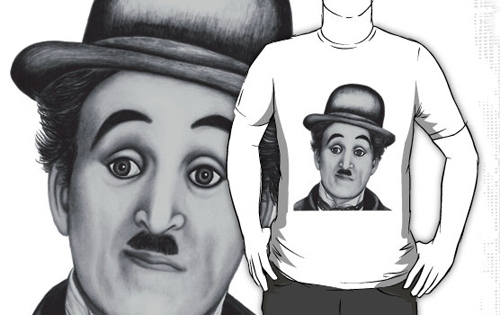 A portrait artwork of Chaplin in black and white but you will surely like this if you could see the colored version which was unfortunately not designed for a t-shirt.
Designer: Margaret Sanderson
Chaplin T-shirt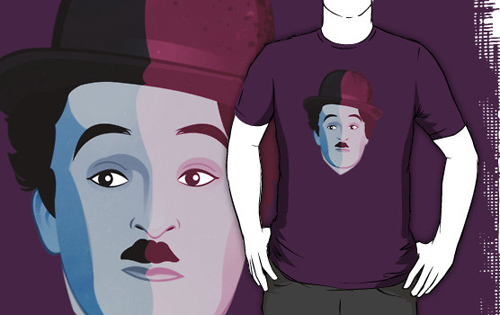 Chaplin in violet hues for this digital portrait.
Designer: Tom Trager
Charlie Chaplin T-shirt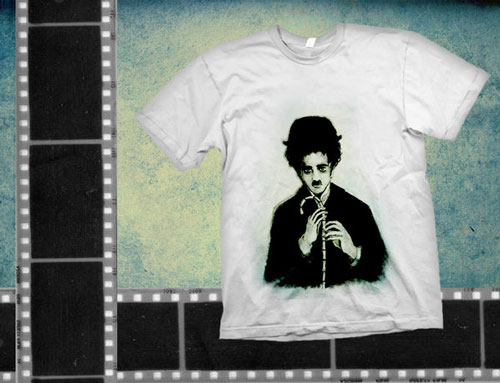 Chaplin's cane and hat were surely one of his remarkable brands as seen in this shirt.
Designer: Muoni
The Chap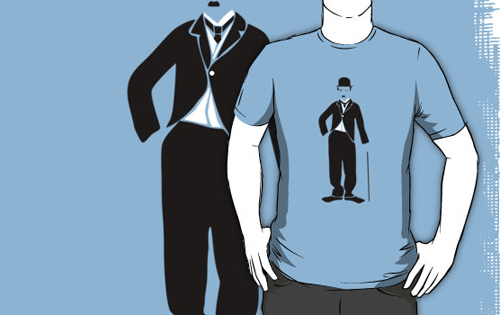 In blue t-shirt, this black and white Chaplin looked good and was sure given emphasis.
Designer: Gillian Japlit
T-shirt Charlie Chaplin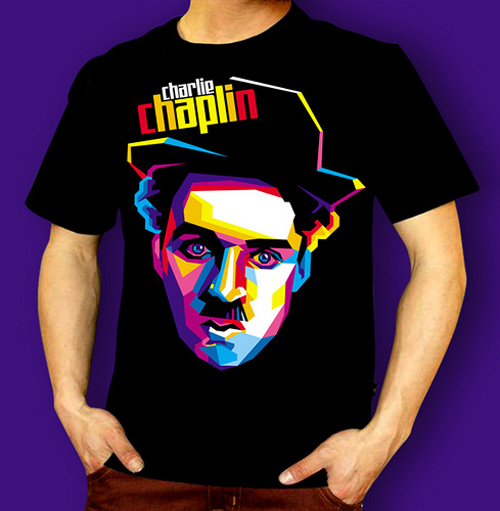 A pop art portrait of Chaplin. Very nice isn't it?
Designer: Rizki Dion
Once again, we have looked back to the past with these t-shirts of Charlie Chaplin as one of the most famous man in history due to his passion in making people happy. These t-shirt designs show us that even to this date, Chaplin remained in our hearts. For sure, you will agree to that! We hope you were happy to see this collection. Look forward for more t-shirt design inspiration! We really have a lot of designs in store for you!