Music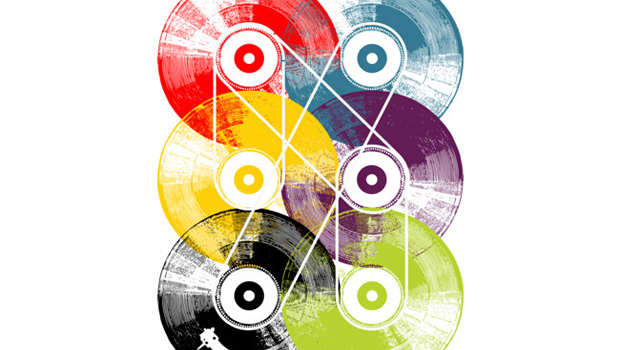 Published on December 14th, 2013 | by WERTEE EDITORIAL
0
Get Groovy with Vinyl Record T-shirt Designs
If there is one thing that will never go stale and will always be with the trends, that is music. Music has changed from years ago but no matter what the time is and no matter where you are, music will always be heard. What changed is the source of music because people started creating music from organic materials and natural elements. Then, it started to be stored and played through various media from vinyl records to smart phones. But instead of dealing with the recent trend, why don't we do a little flashback to the time when music were played from vinyl records?
Hearing the term vinyl record will surely make you think of famous artists like Elvis Presley or Marilyn Monroe. You might also be reminded of framed vinyl records which are seen in museums or even in homes as wall decor. But that's not all. Vinyl records are also favorite subjects for t-shirt designs. Amazingly, t-shirt designers were able to create twists to these and added a great deal of creativity to the designs. Scroll down and get a glimpse of vinyl record t-shirt designs that will make you admire these classic musical media.
The Vinyl City T-shirt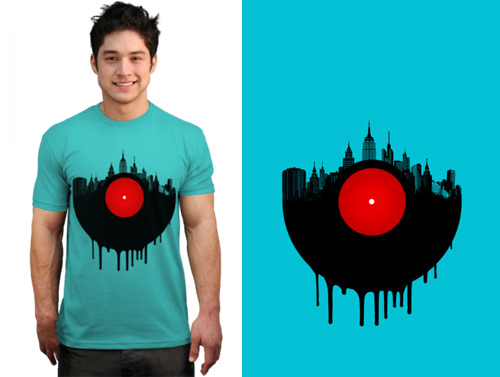 We love the details of the buildings that seemed to grow from this vinyl record.
Designer: Ingkong
Singing in the Sea T-shirt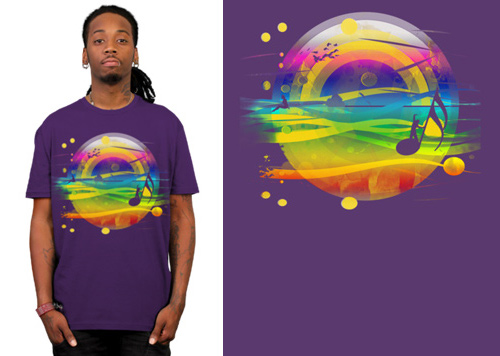 A rainbow colored vinyl record that reflects sea waves. Isn't this a beautiful print?
Designer: Kharmazero
Urban Vinyl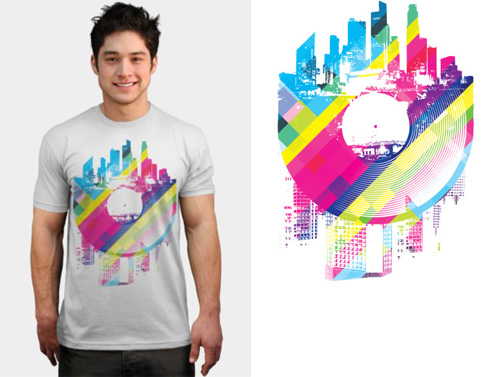 An urban scene integrated in the vinyl record showing different lively colors.
Designer: Sitchko Igor
The Sound of the Sun T-shirt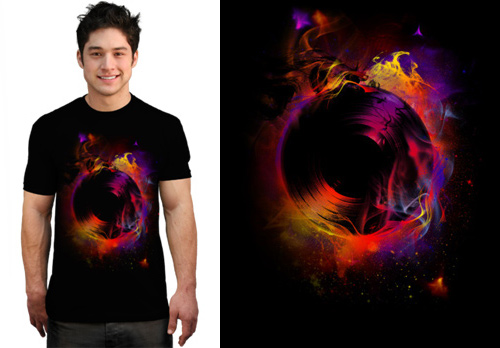 Blazing and glaring like the sun! The color of the vinyl's glare is just dashing!
Designer: Aj Dimarucot
Feel Calm and Peaceful T-shirt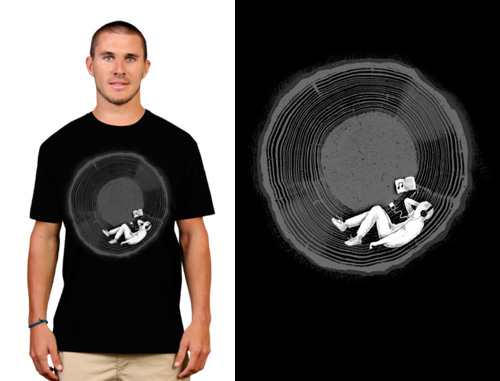 One would indeed feel calm and peaceful while listening to the music played through a vinyl record.
Designer: Carbine
Disc Jockey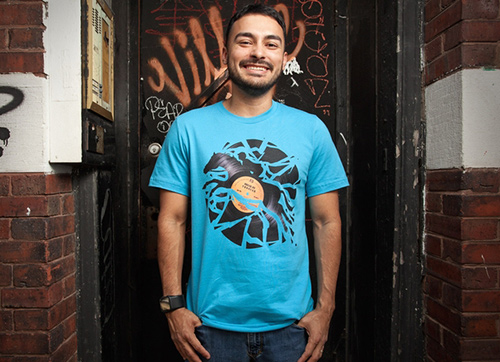 This is a beautiful and artistic design showing a horse inside a vinyl record that appears broken.
Designer: Enkel Dika
Planet Music T-shirt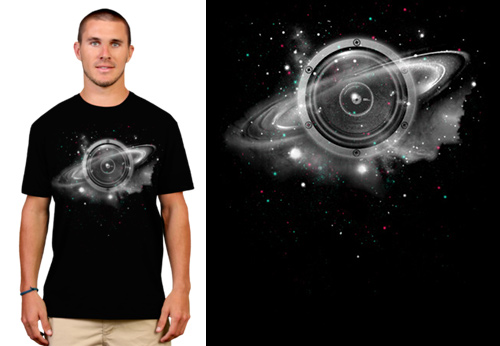 Would you love to live in a planet of music?
Designer: Expo
Keep the Record Alive Vinyl Disc Shirt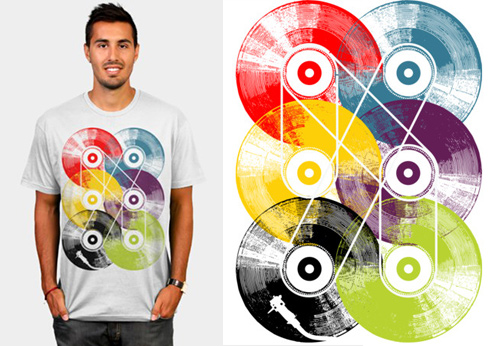 What could be livelier than a vinyl record in different colors? These seem to play together as strings were attached to each of them.
Designer: Radiomode
Hey Mr. DJ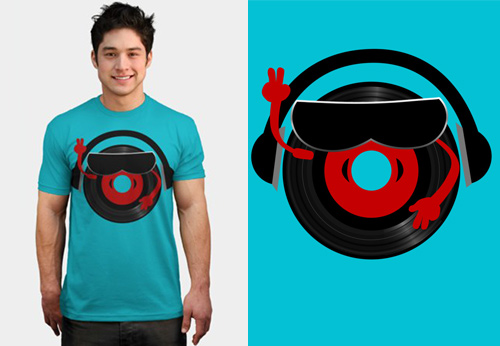 Mr. DJ is cool with a face drawn on a vinyl record. Kind of funny design but it does look cool.
Designer: Pinkstorm
Pop Records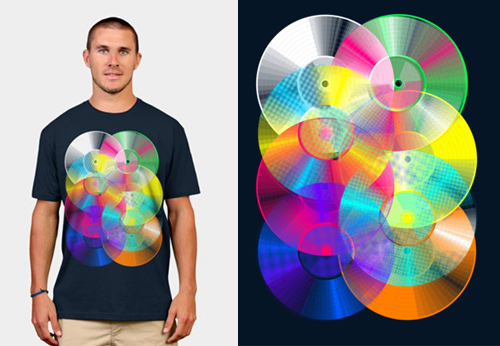 These are lovely vinyl records in different colors and patterns.
Designer: Clingcling
Disco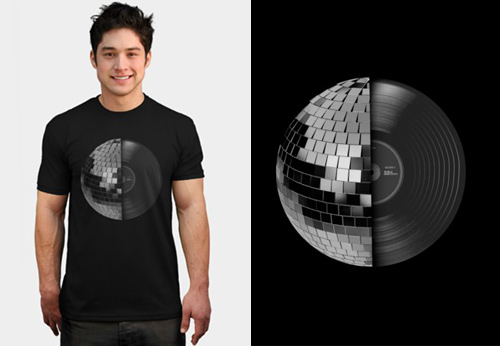 A disco ball on the other half and a vinyl record on the other- guess its party time!
Designer: Expo
The Infinite Vinyl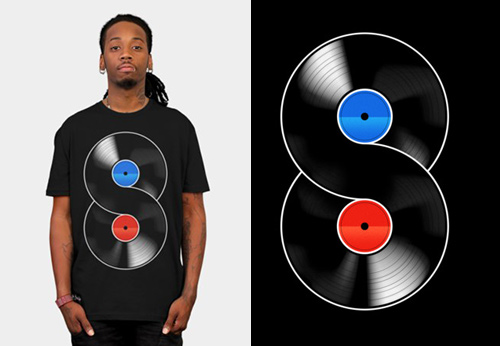 Vinyl record for infinity means music forever!
Designer: Mitxel
Remixed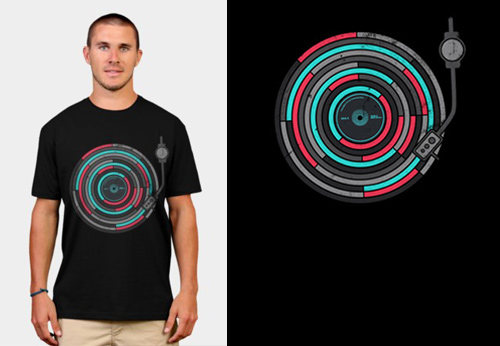 Coined from the concept of remixing music, this vinyl record comes in various colors and is divided in segments.
Designer: Expo
Cut That Record T-shirt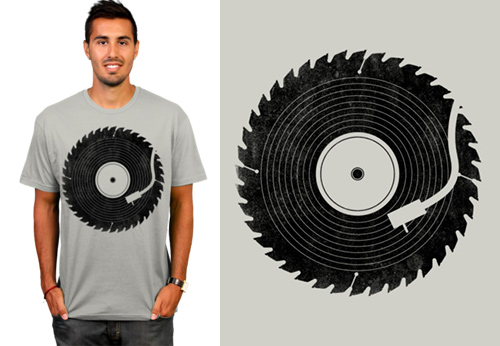 A design that shows a vinyl record that could really cut into anything!
Designer: Biotwist
Audio City T-shirt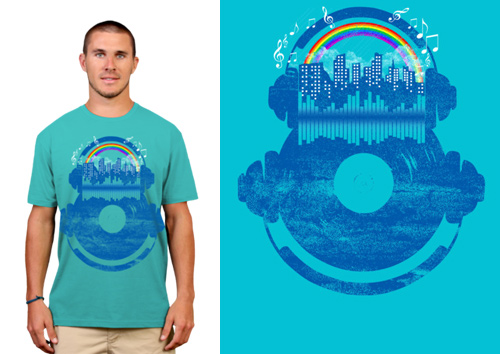 Another design with a vinyl record and a city. The rainbow in it added color to the print.
Designer: Moncheng
Seeing this list would make you agree with us that designers really come up with awesome and creative designs with just anything even with a vinyl record! Aside from the designs, each one has a message in it which is for you to discover. But whatever that message is, one thing is for sure- a vinyl record will always be connected to music, classic hits and the rich history of the music industry. Now if you are seeking more music themed t-shirt prints, try to take a look at cassette tapes designs or headphone prints. These might also interest you!