Illustration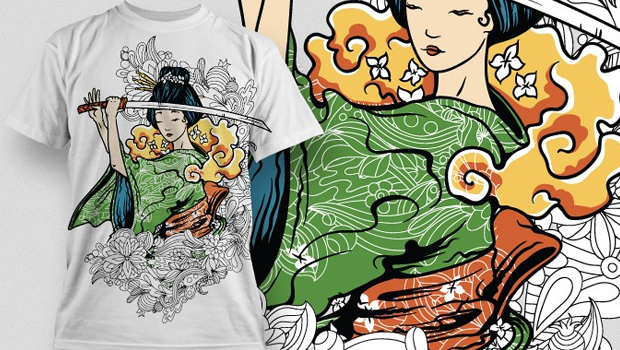 Published on March 1st, 2013 | by WERTEE EDITORIAL
0
Lovely and Entertaining Geisha T-shirt Designs
Many of us have heard the name Geisha which is associated with the Japanese culture. Geisha are professional entertainers during banquets, meals and other gatherings. Their role is to give the guests a welcomed feeling through their performances, small talks and others. Geisha girls are trained in different Japanese arts that include communication, music and dance. These skills are what they use in entertaining guests.
Having a dinner in a Japanese resto would seem to be incomplete without a Geisha for they make dining a lot more fun due to the performances they give. Although, there had also been intriguing stories of prostitution among some Geisha. Yet, despite that, Geishas still exist up to this date. Because of their fame, especially with the release of a novel titled "Memoirs of Geisha" , they had managed to reach the world of arts and design. Maybe it is also due to their beautiful clothing and looks that made them famous even as subjects of design. So, today, we will showcase different Geisha prints on t-shirts. Take a look at the various styles each one have.
DBH Collective Shirts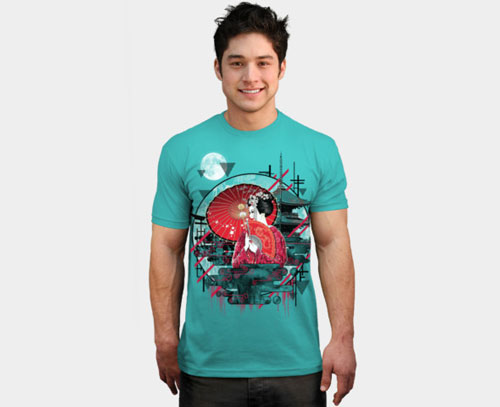 A pretty geisha in red made even more beautiful with the light from the moon in this nearly abstract design.
Designer: silentOp
T-shirt Design 544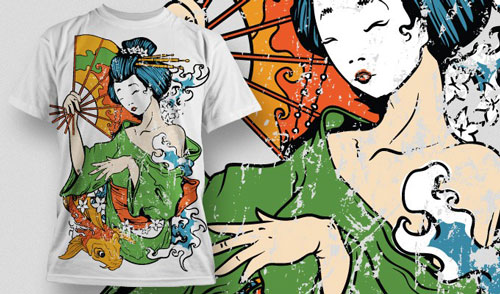 This one is a geisha that seems to be surrounded by water with grungy touches.
Designer: designious
Geisha-Step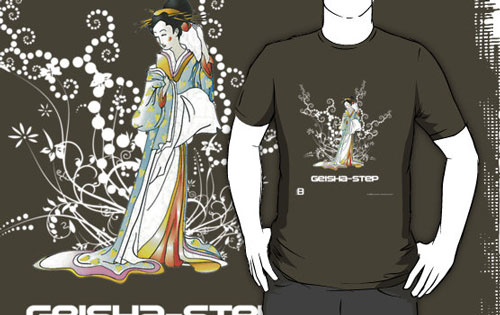 A dancing Geisha showing her steps. The floral swirls at her back added to the dancing effect of this design.
Designer: VII23
T-shirt Design 549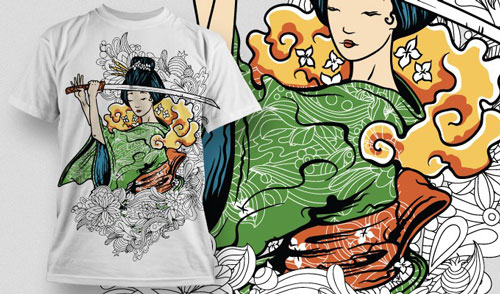 Even with a samurai, a Geisha will still look feminine and would maintain her beauty.
Designer: designious
Geisha Rock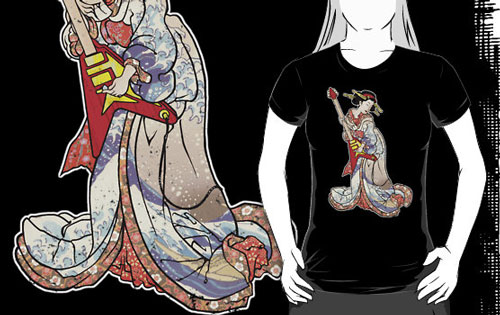 Rock and roll Geisha girl! Who would have thought that a Geisha can do Rock and roll?
Designer: GalletaRaton
Geisha and Kanji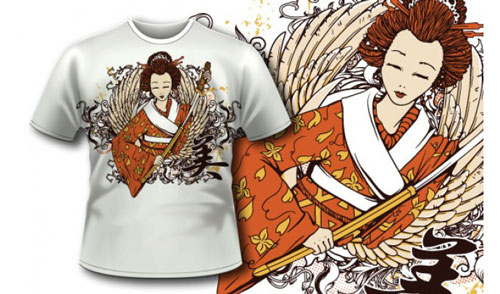 Spread the wings and fly! Winged Geisha that seems like a warrior in this design.
Designer: designious
Geisha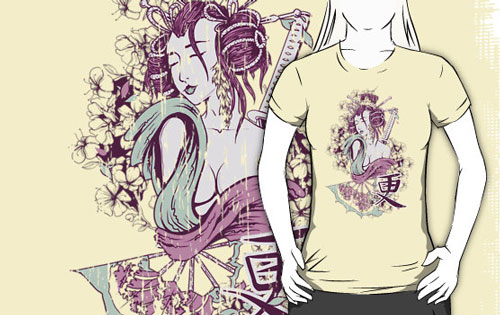 Beautiful and sensual Geisha in with floral accents around her.
Designer: luckydevil
Geisha and Dragon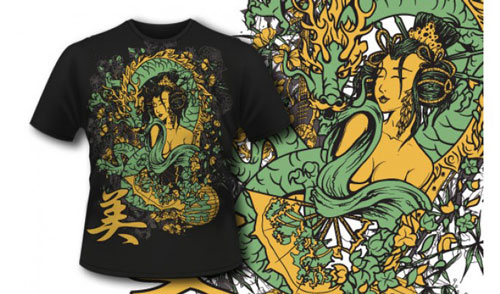 This dragon is the Geisha's pet. It could be weird but in this design, they looked good together.
Designer: designious
Geisha's Delight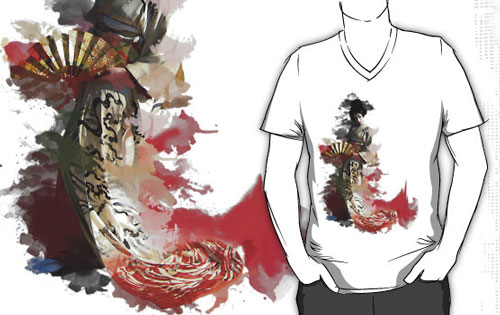 Play with paint and come up with a beautiful Geisha like this one.
Designer: Adam Grey
T-shirt Design 583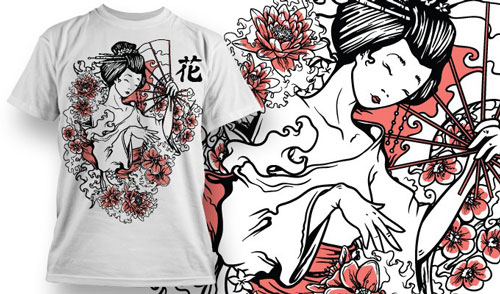 A simple design with bold black outlines and light reddish touches.
Designer: designious
Vintage Geisha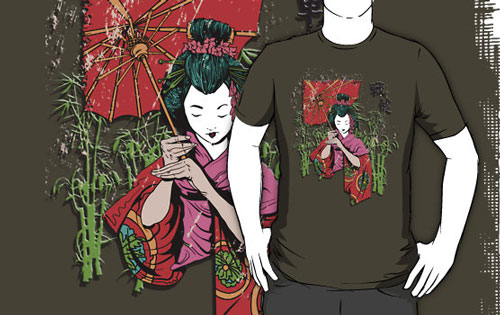 With a vintage theme, this design looks pretty even with the grungy effects.
Designer: garmsink
Vintage Geisha-II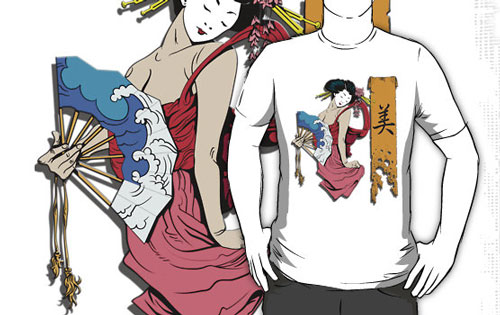 Another vintage Geisha showing her simple contrasting attire and a wave inspired hand fan.
Designer: garmsink
Oni Geisha T-shirt Design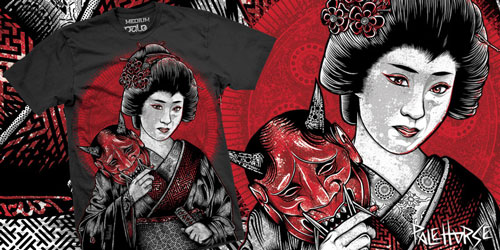 Seems like this Geisha is on for a Halloween costume party or maybe something else.
Designer: Design You Trust
Japanese Autumn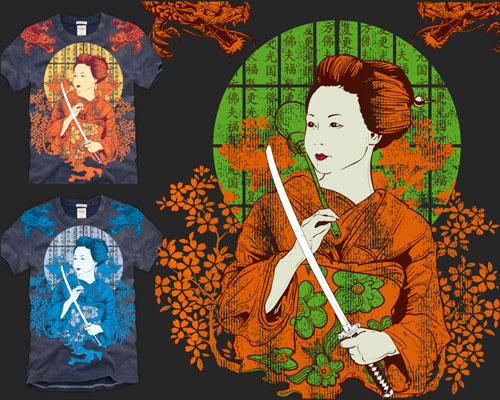 Available in three different colors but all of them looked beautiful especially with the blossoms at the back.
Designer: sssilent
Geisha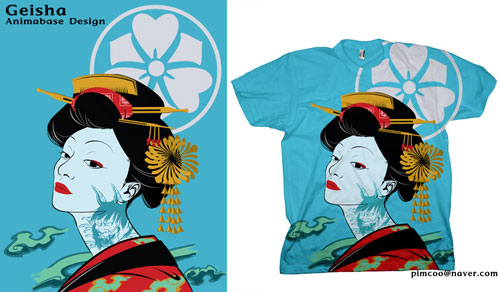 Just a closer look at the facial expression of this Geisha.
Designer: animabase
T-shirt Design 141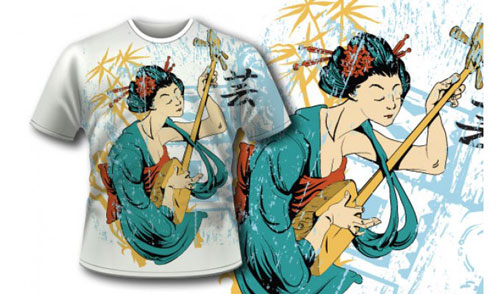 Music is one of the strong points of a Geisha and that could include playing instruments like this.
Designer: designious
White Geisha T-shirts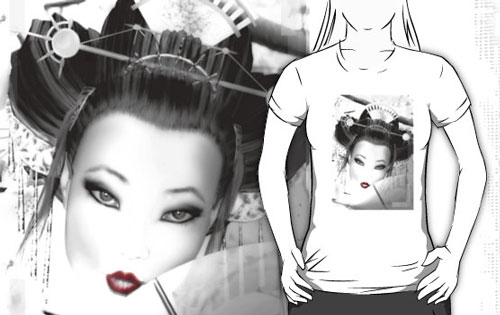 We find this beautiful even in gray scale. The sole colored part is the lips which makes it look even more stunning.
Designer: Shanina Conway
Kabuki Geisha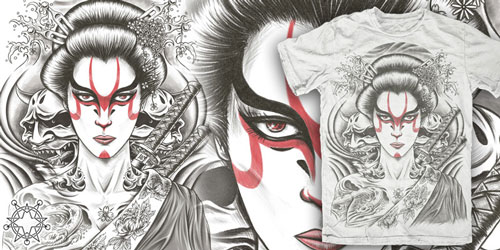 Creative and artistic design of a Geisha which conveys a dark theme.
Designer: Rial Demones
The Geisha Tee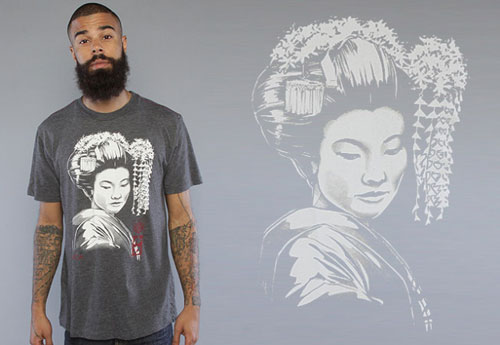 Just simple in white print on gray t-shirt color.
Designer: aecho
Kabuki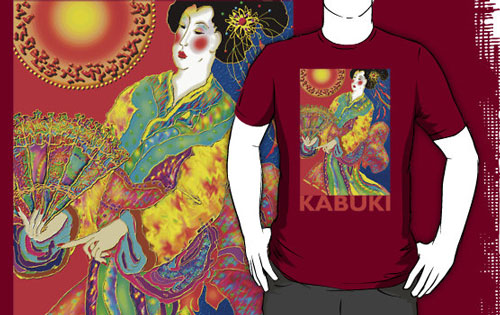 Colorful design of a classic Geisha which will surely make others turn their heads towards you.
Designer: Norval Arbogast
These Geisha t-shirt designs are sure lovely. Every design shows a different personality and might even be related to whoever will be wearing the t-shirt. So, see to it that even with a Geisha print, you will choose the design that would fit in your personality. There are still so many other illustrations that we will be showing you. Look forward for more designs!