Illustration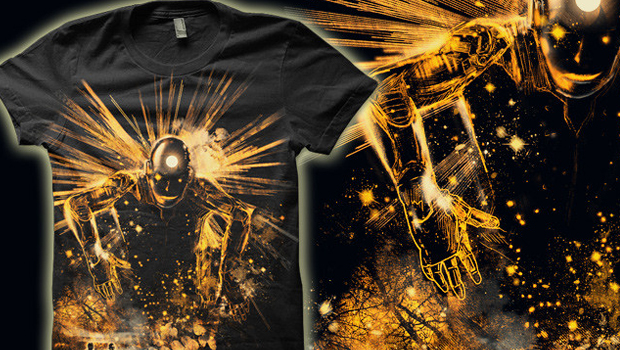 Published on May 14th, 2013 | by WERTEE EDITORIAL
0
Amazingly Creative Robot T-shirt Designs
All of use knows what robots are. They are created by humans to mimic some human actions. Some robots are made to make things a lot easier for humans since they'll be the ones to do some stuff for them like cleaning and others. With man's intelligence, these robots came to life. But aside from real life robots, we have actually seen more robots on films and television shows but animated and cartoons. Most of us even came to love their characters.
Robots have become part of man's wild imagination. Even t-shirt designs can show you how wild man's creativity can be when it comes to creating stuff. For today's t-shirt design inspiration, we will give you a showcase of some robot t-shirt designs which is far from what you commonly see in stores. These designs are so creative and artistic that it will make you want to grab one for you. Check them out:
Robot Farceur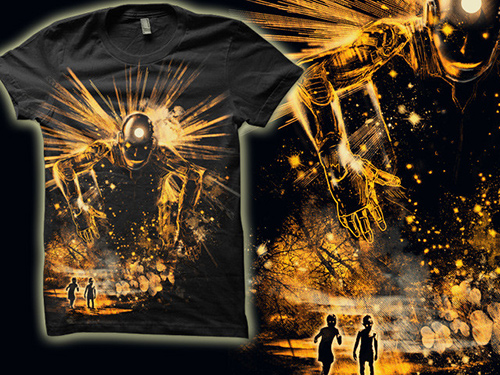 Stunningly creative robot t-shirt design using gold and yellow. The use of these colors on black print makes it look sparkling and glowing.
Designer: Kharmazero
Play My Musical Robot 2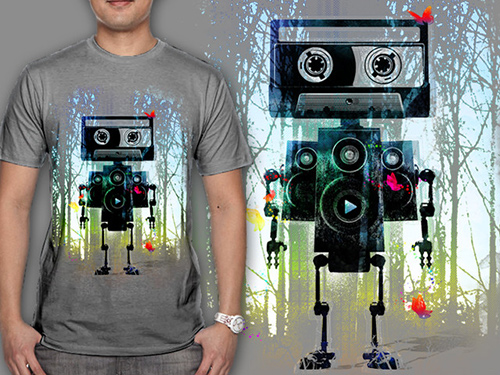 This robot is a certified music lover with a head from cassette tape and its body from boom box.
Designer: RPCabardo
Analog Android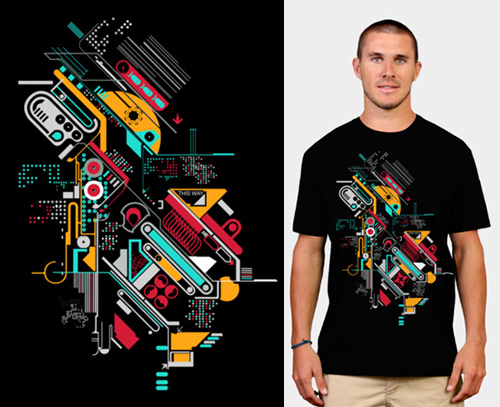 Kinda cute and looking totally techie with the lines and shapes combined. The choice of colors is also good.
Designer: Radiomode
Number 5 is Alive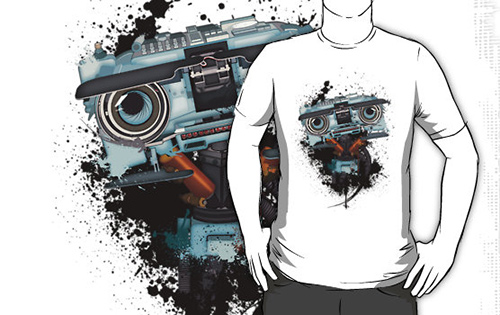 Grungy robot print design with splatters of black around the unique robot.
Designer: InkOne
Firelight Cottage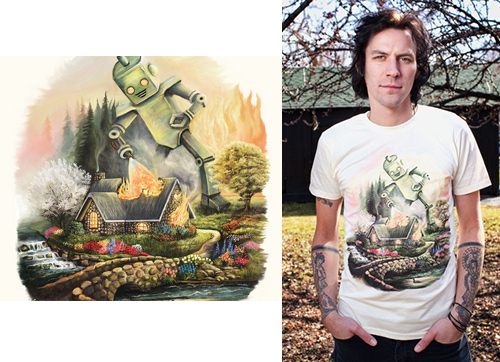 Looks like this robot is a life saver! It puts out the fire in from the burning cottage. But what makes this print awesome is not the act of the robot but the colors and the details you see in it.
Designer: Nathan Stillie
Enjoying Life on Earth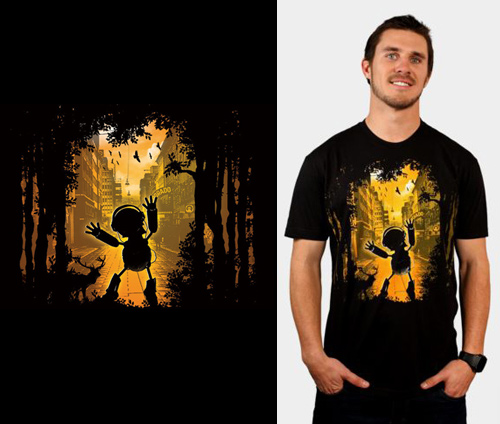 This little robot seems to have a great time on Earth! Notice how beautiful this print is with the silhouette of trees and falling leaves framing the robot.
Designer: RPCabardo
Techno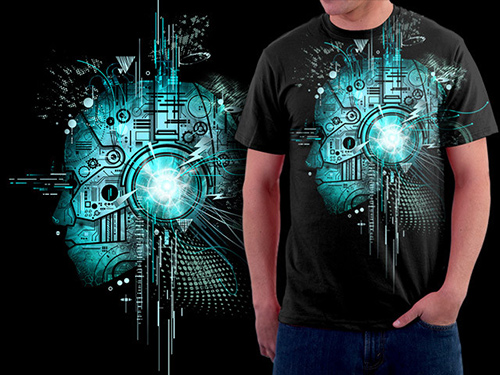 Amazing. This design is just breathtakingly beautiful even if its monochrome! The details on it and the varying shades of green used creates a lovely wrap up for this techno robotic head.
Designer: Jay Maninang
The Diver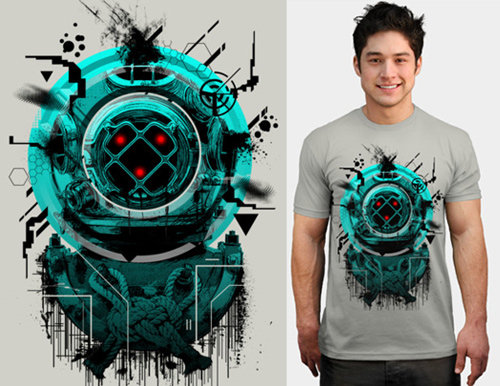 A robot that is made for the under the sea with its greens and blacks to complete the sea-inspired look.
Designer: SilentOp
A.L.I.C.E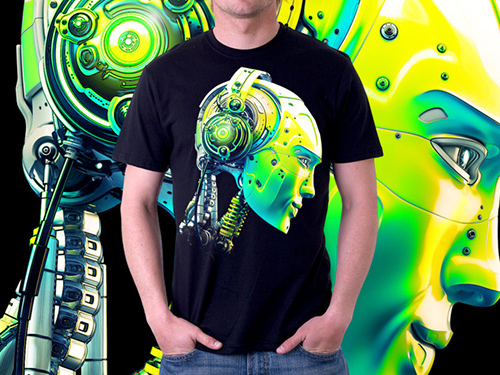 check out this excellent design! You would certainly love to grab one of these.
Designer: Ekgraphics
Reboot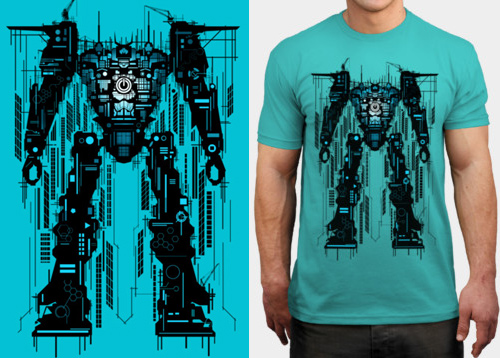 Totally robotic indeed! Even in black, this print is designed with a great deal of skills showing little details of the robot.
Designer: SilentOp
Virtual Reality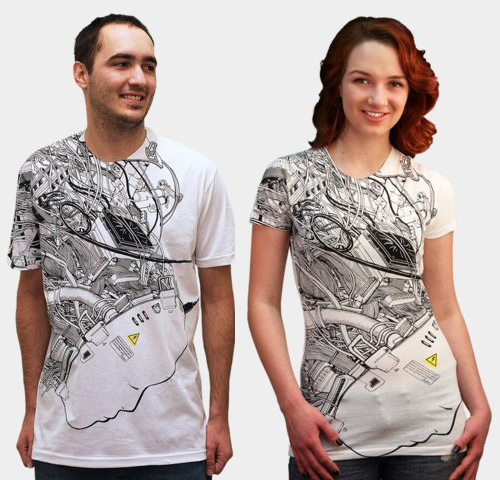 This one is like a doodle or sketch of some robotic stuff coming from its head. The idea of filling the upper part of the shirt with all these details is totally artistic.
Designer: Davi_Augusto
Robot Walker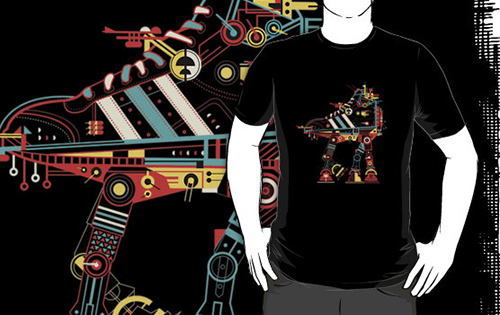 Yes, this is a shoe. A robot inspired shoe design with robot legs and all other robotic items integrated in it.
Designer: Reanimagic
Alien Assault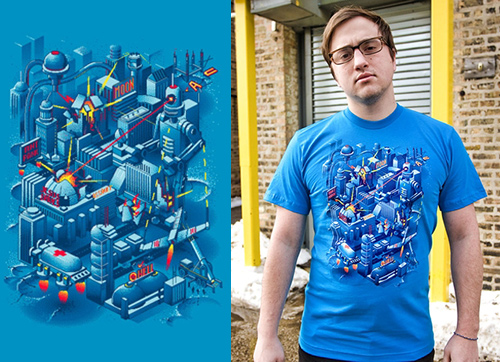 Oh! Its robot invasion. The robots have invaded the city but what makes this t-shirt cool is the invasion of blue and the detailed artwork.
Designer: Johannes Krohn
Robot Attack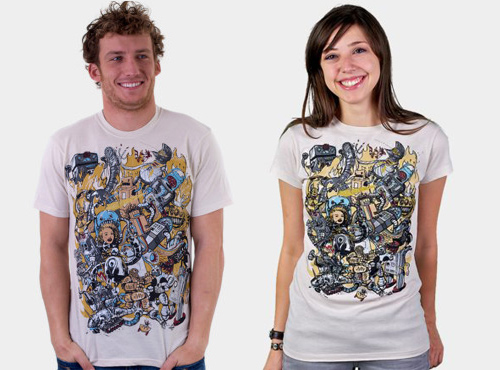 Robots here and everywhere! If you want a t-shirt designed filled with robots, then this could be a perfect choice.
Designer: Legion of Doom
Twenty If by Giant Robot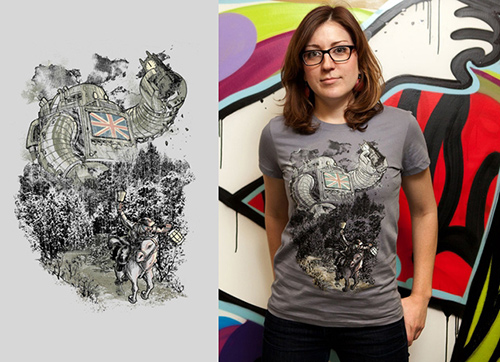 This is like a charcoal rendering with just gray and black lines used in the design. A giant robot came to get those bad guys!
Designer: Robbie Lee
You will certainly agree with me that these robot designs are not just creative but totally artistic. It is an amazing thing that robots can actually look so beautiful like the ones you see above. Well, this is just the first list of robots we are going to give you. We will still be featuring more robot stuff next time for there are tons of robot inspired t-shirt designs that we have seen and we are so excited to share it all with you.