Illustration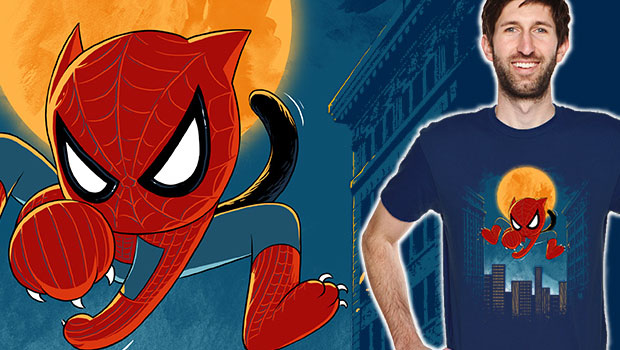 Published on October 19th, 2013 | by WERTEE EDITORIAL
0
Feline Fun: Super Cats Prints Rule
After seeing owls, we will feature another animal inspired t-shirt print but this time it is less serious. So, who among you here are cat lovers? You might like this collection we did where in your favorite pet was turned into super heroes. Some of them look heroic but the mere thought of having cats as super heroes would send you a chuckle. You will find cats with red capes like what Super Man had while others were mimicry of famous characters like Wolverine and Spiderman.
Huh? A Spidey Cat? A Wolverine Cat? A Super Cat? Yah. You read it right. That is what we will be featuring today. Now to end your curiosity, scroll down and take a look at the t-shirt print designs below showing different cats- super cats that is. You can also see how the designers played with these feline fellows of ours. Now, get a dose of fun by looking at the t-shirts below:
Dragnet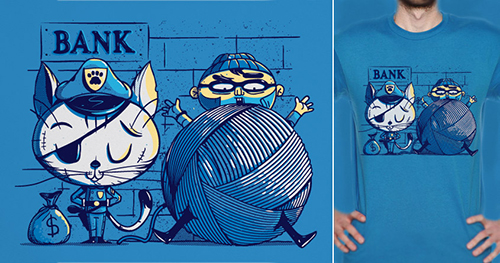 That burglar cannot get away now for the cat has saved the day!
Designer: Artygums
Cat Life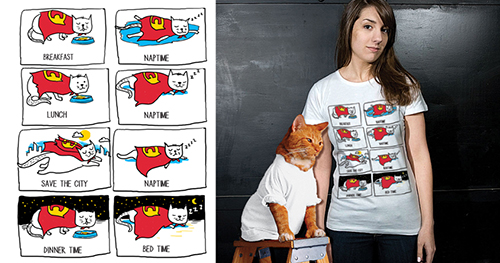 This is a super cat and this is its life. Boring or not?
Designer: Dandingeroz Designs
Who's a Scaredy Cat Now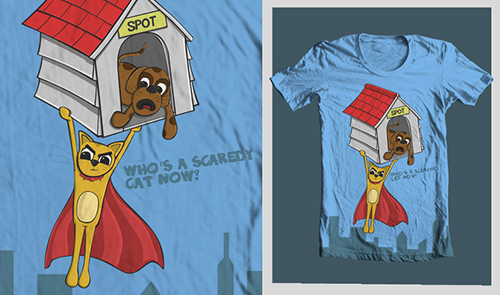 Guess this time the cat got the super points bringing the dog high up!
Designer: Some Think Different
Super Cat Fight XVII: The Quest for Peace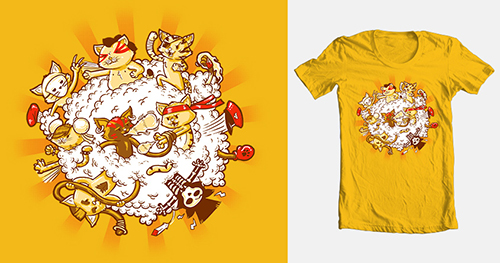 Super cats in action! Look at how hard they fight! Can you name some famous characters that look like some of the cat's here? We got one: Chun-li from the Street Fighter.
Designer: StevenLefcourt
The Amazing Cat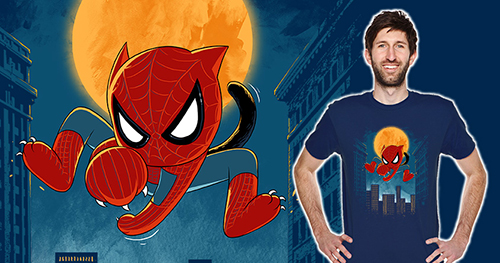 This isn't the amazing Spiderman but it is an Amazing Super Cat! Climbing wouldn't be a problem.
Designer: Ronin84
Superlazy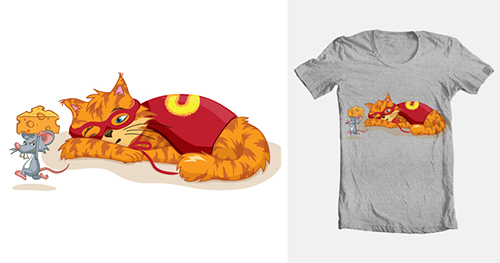 This is a super- a super lazy cat. Heroic failure eh?
Designer: Jullalb
Follow the Laser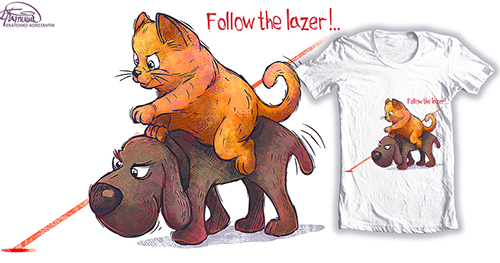 These cats are really super because they can even command dogs!
Designer: Konstantin Bratishko
Catverine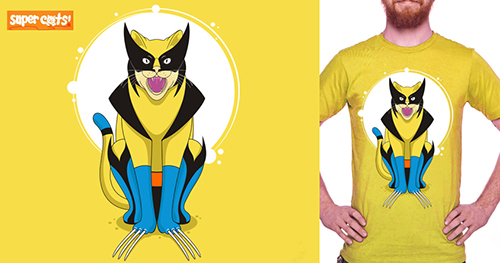 Will Wolverine be pleased to see his cat counterpart?
Designer: Koedabesi

Super Cat Heaven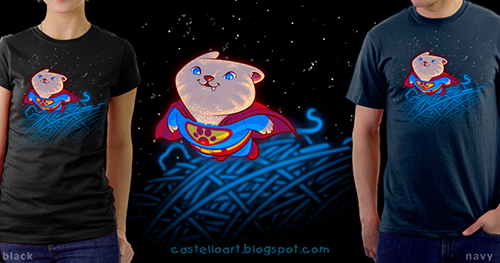 A cutie cat on a mission to save the world! This one looks chubby and even cuddly!
Designer: Daniel Castello Muniz
To the Rescue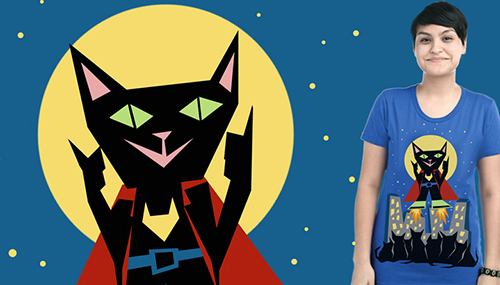 Yah. We know you doubt if this cat could actually do a rescue but why don't we give it a chance?
Designer: Artrocity
Roboticat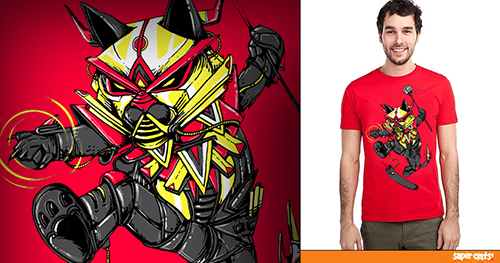 Combine a robot and a cat- you will get a roboticat!
Designer: Cartepostale
Hero of the Night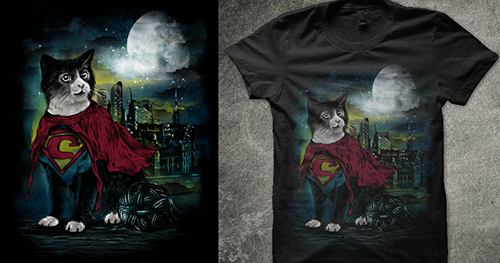 Looking fierce and kinda heroic with a beautiful city artwork at its back.
Designer: Dandingeroz
Protector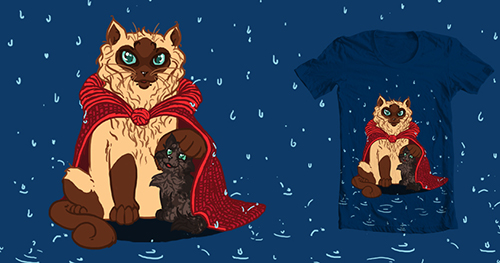 A cartoon design made by a young designer- a cat protecting another cat while risking itself under the rain.
Designer: Christine Vielmond
Regular Mission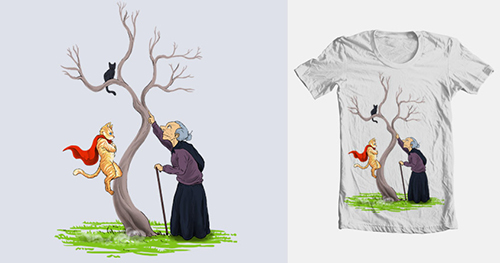 Super cat's regular mission is to save other cats on trees. Why would they climb and have trouble getting down, anyway?
Designer: Foice
Flying Cool Cat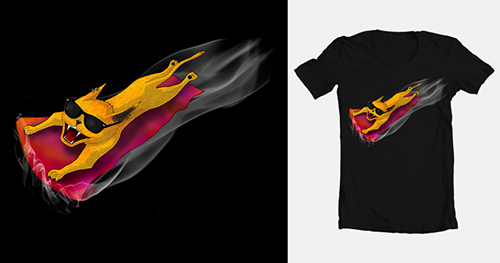 Well, we are not sure if this cat is on a mission. What we know is that it is just having a good time flying!
Designer: Oscar MM
Super cats or not, these cats are still cuties! Well, these feline friends in reality is also man's best friend and due to that fondness, even t-shirt prints like the ones above were created. It is like a sort of tribute to these furred fellows who would glide and purr around our feet. How did you find these supercats? Do you think they are super?